5 Best Ways to Unlock Any Password Protected PDFs
In the corporate world, PDF files are one of the most widely used formats for exchanging data. You may access them on almost any platform. As PDF stands for Portable Document File, this makes sense.
So, often a password is put to any PDF to increase its safety. This is done to prevent anyone from viewing or altering your PDF document without your permission. Many PDFs that are downloaded are password protected. Passwords can be aggravating at times. There are two types of passwords that can be used to make a PDF document more secure.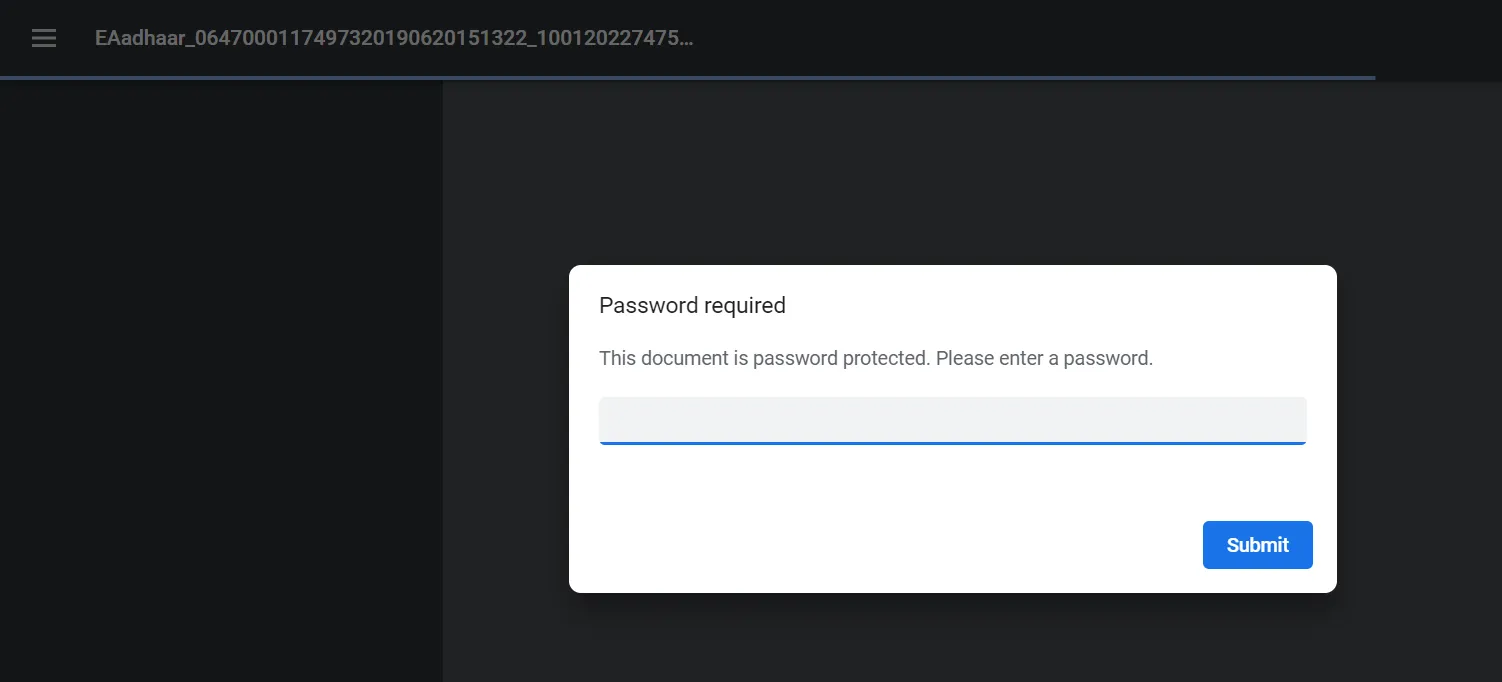 Owner Password:
The owner's password is not required to open or view a document because the password was created by the owner to prevent any unauthorized person from making modifications to the content. In a file protected by the owner's password, only the owner can make changes. You may experience some limitations if you do not have the owner's password. It may become impossible for you to print, alter, or copy the document. You may, however, remove the owner's password with the correct software.
User Password:
Also known as an open password, this is a type of password that is used to stop anyone from accessing and viewing a PDF document. If you want to view or edit a file, it becomes necessary to use the correct password key first. In this situation too, you can remove the password using any software.
PDFs are increasingly being protected with a password, which must be supplied each time you want to read the file. Some workplaces require this, but you may want to remove the password security to make it easier to enter and exit the PDF.
There are several methods for removing passwords from PDF files, and we will go over a number of them below.
This is a web-based PDF tool that offers several PDF related functions. One such feature is its ability unlock PDFs protected by passwords online. It makes the finding the password very straightforward and works on literally any platform from Linux to Mac and Android.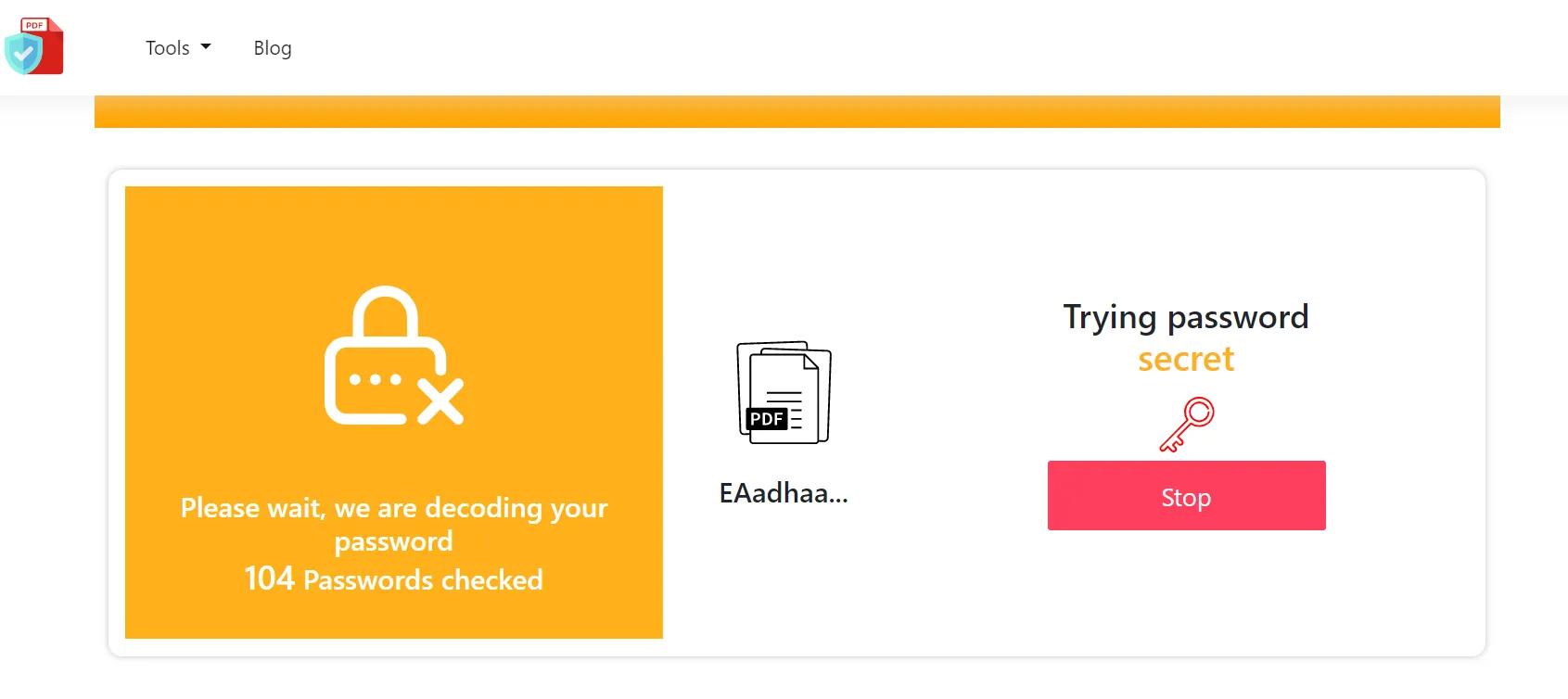 When you upload a PDF on the site, it gives you the option to try different passwords. You can also let the tool try innumerable passwords on its own to check which one matches.
This tool is also very secure as no data gets saved on its servers.
How to unlock PDF online using safePDFkit.com?
Go to www.safepdfkit.com and select the Find PDF Password tool.

Now, you can choose the method by which you want to find the password.
Smallpdf is a popular online platform for fast unlocking PDF files. To unlock the file, simply drag and drop it onto the tool. It also includes 20 more PDF utilities for merging, splitting, rotating, converting, and compressing documents.
How to unlock PDF online using smallPDF.com?
Go to https://smallpdf.com/unlock-pdf and upload your password-protected PDF.

Click on the checkbox to your right to assure that you have rights to access the PDF.
Now, you can enter your possible passwords to check which is correct.
IlovePDF
When it comes to removing passwords from a PDF file, it is one of the quickest online tools to use. It allows you to use PDFs however you wish. It includes simple instructions for uploading and removing passwords from any PDF file. You can merge, split, compress, and convert PDFs in addition to deleting the passwords.
How to unlock PDF online using ilovePDF.com?
Go to https://www.ilovepdf.com/unlock_pdf and upload the PDF.

Now hit the giant red Unlock PDF button on your bottom right.

You may have to try different possible passwords in the textbox in the next step.

Once the task is done, the tool will let you download the unlocked PDF.
The Print Trick
Some PDFs are password-protected and have printing limitations. If they are just password-protected for security reasons, one solution is to open a saved PDF in a browser and then resave it as a new PDF.
It will no longer be password protected, but you require the password to start this process. Another downside of this method is that after resaving the PDF, copying text becomes more difficult.
Wondershare PDFelement - PDF Editor is the best PDF software, allowing you to remove passwords and limitations from PDF files. In addition, you may convert PDF to editable formats like Word, Excel, HTML, and PowerPoint.
You may also use it to convert existing PDFs, HTML files, and photos to PDF files, as well as screen capture to PDF files. It also offers the ability to build and fill out fillable PDF forms.
You can make scanned or image-based PDF files editable with its OCR plug-in, which supports over 17 global languages. It can also edit documents, compress data, add and remove watermarks, combine and divide files, and insert digital signatures. It works with all Windows versions from XP to 10.
How to unlock PDF online using PDFelement?
Simply open the PDFelement software and from among the tools select OCR PDF.

Now, look for the PDF you want to access.

You can either try manually entering passwords or let the software try its preset passwords.
All of the five techniques on this list have their own distinct qualities and capabilities. We hope that after reading this article, you have a better understanding of how to select the best PDF unlocking tool for you. It is largely dependent on the features and characteristics that you desire so always keep an eye out for all of the features and characteristics. Then you can compare them to find the greatest fit for you. Regardless of which tool you use, we hope this guide has aided you in picking the best option possible.